Well Street Art Company is a gallery, frame shop and artist studio center established in 1999.
GALLERY HOURS: Tuesday-Saturday 12-6 pm
FRAME SHOP HOURS: Tuesday-Saturday 12-6 pm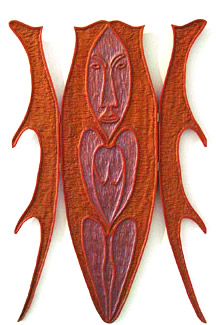 Kustaka - Madonna
The gallery has changing monthly exhibits of Alaskan artists, both contemporary and historical. The gallery has a wide selection of antique prints and maps, as well as Alaskan art books. We feature work by many of Alaska's best known painters, photographers, sculptors, native artists and craftsmen.
We are located off Phillips Field Road in the Alaska Railroad Subdivision near downtown Fairbanks. Each month we feature a First Friday Opening Reception 5-8 pm. The spacious 1400 square foot with gallery and full kitchen are also available for special events such as meetings, weddings, and public forums.
In addition to the gallery Well Street Art Co. has twelve artist studio spaces. Current resident artists include: Robby Mohatt, Carol Wilbur, Tina Shih, Rachel Mulvihill, Jess Pena, Craig Cheledinas, Sharon Hollensbe, Katlian Stark, Elizabeth Irving, Ingrid Taylor, Jessie Hedden and David Mollett.